Back in 1993, I was the editor of the Programme and Mr David Walton kindly donated an article which is reproduced here.
THE VULCAN – GONE – BUT NOT FORGOTTEN
By David Walton
On the 23rd March 1993 Avro Vulcan XH558, the last RAF Vulcan, took off for the last time from Waddington. Three and a half hours later she made her final landing as a military aircraft at the privately owned aerodrome at Bruntingthorpe near Leicester.
Our family business has owned the ex-USAF Bruntingthorpe Aerodrome near Leicester since 1983, having purchased it from Peugeot Talbot who used the whole site as a vehicle proving ground. Within weeks of us acquiring the airfield we were approached by a group of enthusiasts who had a collection of ex-military aircraft at East Midlands Airport. Amongst this collection was a recently delivered Vulcan Bomber XM575, which had just been delivered by the RAF. It was proposed to carry out the necessary servicing on this aircraft and to obtain a ferry flight permit from the CAA to deliver the Vulcan from East Midlands Airport to the more suitable location at Bruntingthorpe. Planning permission was subsequently granted by the local District Council for the establishment of an aircraft museum at Bruntingthorpe which has now become known as the British Aviation Heritage. Much of the required servicing work was completed and the aircraft readied for a final flight when the enthusiasts' funds ran out due to parking fees etc at EMA – thus XM575 was destined not to fly again and Bruntingthorpe would not gets its Vulcan.
On 24th June 1988, an important date in our collection's history, 'JS' Lightning XR728 flew into Bruntingthorpe. This remarkable British fighter was being retired from the RAF and had been purchased by a number of individuals who formed The Lightning Preservation Group (LPG). Five years on, 'JS' is still doing regular re-heated take off runs and is very much a 'live' aeroplane. In January this year the very last flight by an RAF Lightning took place when XS904 was delivered to Bruntingthorpe from Warton after a 'round robin' trip escorted by a Tornado. This historic occasion drew a large gathering of enthusiasts to witness the Lightning's last landing. The Lightning Preservation Group has thus kept the ball rolling towards establishing a unique collection of working British ex-military aircraft at Bruntingthorpe.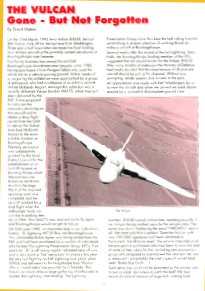 Several weeks after the arrival of the last Lightning, Tony Hulls, the Bruntingthorpe leading member of the LPG, suggested that we should tender for the Vulcan XH558. After many months of indecision the Ministry of Defence had finally decided that this most famous of all post-war aircraft should be put up for disposal. Without any prompting, tender papers duly arrived in the post. An appointment was made with RAF Waddington for us to view the aircraft and when we arrived we were shown around by a somewhat disconsolate ground crew member. XH558 looked immaculate, standing proudly in her hangar being worked upon by the service crew. The bomb bay doors displaying the word 'FAREWELL' said it all. We were told that a petition 'Save the Vulcan' with over 200,000 signatures had been submitted to Parliament, but all to no avail. The service crew told us of the prospective purchases who had been to view here and of some of their plans for here, including an anonymous group who proposed to disembowel her and turn her into a restaurant – presumably the chef's special would have been 'Bomb Bay Duck' ......!
Such atrocities could not be permitted so the answer was to put in a bid – but where to pitch the bid? We had heard all sorts of rumours of large bids coming from overseas parties, but the grapevine informed us that there were already several Vulcans in various parts of the world outside the UK and that there would be a public outcry if 558 was to depart her native land. Even the politicians would have to accept the public will that if she was to be grounded at least it should be where her devoted followers would be able to see her from time to time.
So with a finger in the wind a figure was arrived at and entered on the Tender Bid form. Despatched by first class post on Friday 5th March 1993 to MOD disposals, to arrive ready for opening on Tuesday 9th March 1993. All we could do then was wait. Tuesday 9th came and passed then Wednesday, then Thursday, by Friday we were beginning to think that we had not been successful or that our bid had not been received. We phoned MOD and were assured that they had received our offer but her fate was in the hands of the Minister and no decision as to her future had yet been made.
On Wednesday we were called by MOD and asked to present at a Press Conference at RAF Waddington scheduled for 1300 hours on Thursday 18th March. An announcement would then be made about what was to happen to the RAF's last Vulcan aircraft .... but congratulations were in order! We duly arrived at the Officers' Mess at Waddington at about 1300 hours on Thursday to be Vulcan Display Team, who led us into the Officers' Mess where we were introduced to the Waddington Commanding Officer, Group Captain Uprichard, and several of his staff and senior staff from the Ministry of Defence. After some time we were led into a room where a large press gathering was assembled.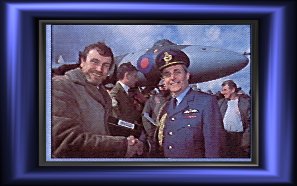 Air Commodore David Hurrel made the official announcement and introduced us as the lucky purchasers. It was then open to the press to ask questions about our intentions for the aircraft – what was her future to be? Would she fly again after being delivered by the RAF? Would the public be able to see her? How much did we pay? Were we pleased with ourselves?
Having faced and answered the barrage of questions it was only just beginning to dawn on us as a family the responsibility we had taken on. We were now the proud owners of the famous Delta Lady and woe betide us if we did not look after her....! Since that day letter from well-wishers and Vulcan devotees have dominated our postbag creating a major task in replying individually to each one.
What does the future hold for 558? Well, for our part the first major hurdle to get over is to get the aircraft inside a hangar before the onset of winter. Ambitious plans are currently on the drawing board for a prestigious museum building to house our growing collection of working British 1st and 2nd generation military jet aircraft. Hopefully, planning permission will be granted and the construction works got underway. We are hopeful that a successful Airshow on July 18th will help fund the initial phase of the building works.
On 'Big Thunder', July 18th, we hope that 558 will do a high speed taxi run on the main runway before the flying display starts – hopefully with her Display crew at the controls. It should be a sight worth going to see .....! So the Lady is at rest at Bruntingthorpe, let's hope it is only a rest not retirement.....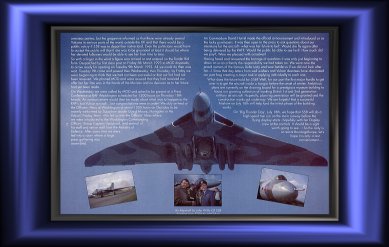 Compiled by John Beal in support of the project to get XH558 flying again - please pledge your support now ! I hope you have found this web site interesting and entertaining. Complaints, comments and suggestions will all be actioned, click here.